Welcome.
THE LARGEST SELECTION ON THE WEB!
All Models are finished & assembled. 100% Satisfied or your Money Back! Questions? Call 888-762-5203
"Hand Carved" by "Master Craftsmen"
Where you get

"Satisfaction Guaranteed"

with a
"30-day Return Policy"
Exquisite Gifts for the Military, Muscle Car, Motorcycle or Golfers!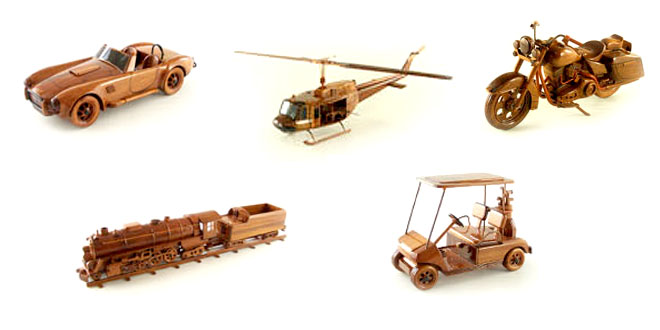 Order Today for that Special Person!

The Widest Selection is at Premium Wood Designs



LET US CUSTOM PAINT YOUR MODEL OR ADD YOUR N-NUMBER AND PLAQUE! Email or Call Us!
SUPER PRODUCT SELLER!!



Personalized Engraving
Personalize your custom handcrafted model for that special person.
In the comment section of the order from please type the tail number you would like engraved in the tail. Example: N755SW

Like our site? Add us to your Facebook!

I just want to say that

I felt I received the best response and service to a recent purchase that I've ever gotten from any on line company. Great job!! Leon, OH

Very real detail. The price is most reasonable. All that work for such a small price.
Did I mention the best quality. Ann A.



I had a problem

with my order and received the wrong product. I was taken such good care of that I wouldn't buy from anyone else even if the quality was better. Brandon B.


Great quality products

, wonderful customer service, easy to contact by email or phone. Responce is FAST, ships on time, and all of this at the best price I,ve found! Thanks Jack for making the DC-3 center piece for wedding reception table. My wife and I first saw each other on a DC3 and did you ever give us a Beautiful example. Cliff Z.


Thanks Jack

for shipping the models I needed promptly. I can see it will be a pleasure dealing with you in the future. Thanks again, Guy


We are a non-profi

t helping military, police & fire. Your quality and workmanship are outstanding. People love them. We raffle them and always do well. Jeff M.


You guys are awesome

.... Was a great idea n wonderful gift! E. Lirey


Great Gift!
My husband is in the Air Force and loved the F16! Joni W.


Amazing Details!
We bought the Blackhawk Helicopter and it was amazing! Tim P.


Beautiful Wood!
The 62 Corvette wood grain and shine was unbelievable! Ryan T.


Quick Service

!
We needed the Electra-Glide motorcycle fast and they delivered. Great Service! Gwen A.
Recently received feedback
on the two planes I ordered for my Sister's retirement from the USAF. She was so touched she cried. According to my Mother everyone who came by was impressed by your product and even though I couldn't be there in person my presence was there. Thank you for a great gift idea and excellent customer service. Sincerely, Tony J.


A great product,

and a great selection, at great prices. Service is excellent, any problem is taken care of immediately. Daniel M.